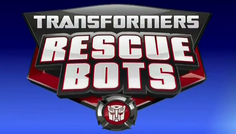 Transformers: Rescue Bots
is a childrens show that launched on The Hub on December 17, 2011 with the preview of the first two episodes, and the full season starting February 18, 2012. The show has been renewed for a second season.
The Autobots Heat Wave, Chase, Blades, and Boulder work with the Burns family to help people from disasters.
See: List of Episodes
Characters and Cast
Edit
Rescue Bots/Rescue Force Sigma-17
Edit
Burns Family
Edit
Greene Family
Edit
Doc Greene (LeVar Burton)
Frankie Greene (Diamond White)
Townspeople
Edit
Mayor Luskey (Jeff Bennett)
Huxley Prescott (Jeff Bennett)
Mr. Harrison (D. C. Douglas9
Mrs. Needeerlander (Billie Hayes)
Mr. Alper (Steve Blum)
Edgar Prewett
Mr. Bufkin
Mr. Perkins (Steve Blum)
Milo (Jason Marsden)
Captain Arthur Shaw (Maurice LaMarche)
Hayley
Mr. Pfeiffer
Captain Wild (Steve Blum)
Profesora Anna Paranova (Kath Soucie)
Antagonists
Edit
Dr. Thaddeus Morocco (Tim Curry)
Evan (Robbie Daymond)
Myles (Robbie Daymond)
T-rex (LeVar Burton)
Robo-Baby (Jason Marsden)
Dither the Helper Bot (LeVar Burton)
MorBot (Maurice LaMarche)
Mister Pettypaws
Edison 
Aristotle
Reception
Edit
Ad blocker interference detected!
Wikia is a free-to-use site that makes money from advertising. We have a modified experience for viewers using ad blockers

Wikia is not accessible if you've made further modifications. Remove the custom ad blocker rule(s) and the page will load as expected.