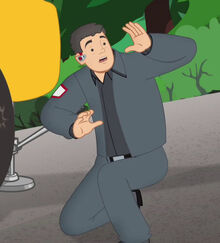 Jerry's main job is as a commercial driver — whether it's a bus or a delivery truck, he'll drive it. His hapless nature means he's often running into trouble, usually literally, which means he keeps Griffin Rock's rescue team busy. He has a sister named Carin and a son named Timmy.
Ad blocker interference detected!
Wikia is a free-to-use site that makes money from advertising. We have a modified experience for viewers using ad blockers

Wikia is not accessible if you've made further modifications. Remove the custom ad blocker rule(s) and the page will load as expected.