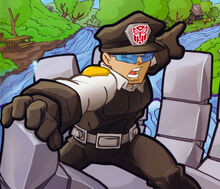 Jack Tracker is a human police officer who teams up with the Rescue Bots, typically working with Chase the Police Bot.
He is also known as Billy Blastoff and Hunter.
Ad blocker interference detected!
Wikia is a free-to-use site that makes money from advertising. We have a modified experience for viewers using ad blockers

Wikia is not accessible if you've made further modifications. Remove the custom ad blocker rule(s) and the page will load as expected.