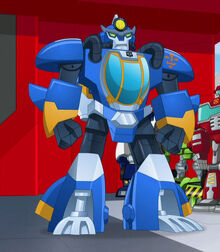 High Tide is the crankiest of old sea dogs and the toughest drill instructor you'll find, not to mention one of Optimus Prime's oldest friends. When the going gets tough, High Tide can combine with his ship, giving him a "mega-bot" mode of immense size and power. He has a dog named Servo who assists him.
Ad blocker interference detected!
Wikia is a free-to-use site that makes money from advertising. We have a modified experience for viewers using ad blockers

Wikia is not accessible if you've made further modifications. Remove the custom ad blocker rule(s) and the page will load as expected.