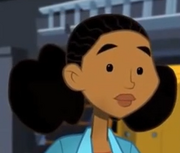 Francine "Frankie" Elma Greene is Doc Greene's daughter and friend of Cody's. She is somewhat suspicious of the Rescue Bots. In "Countdown," it is revealed that Francine is afraid of the dark. In "The Haunting of Griffin Rock," it is revealed that Francine's middle name is Elma named after Griffin Rock's first scientist Elma Hendrickson.
Ad blocker interference detected!
Wikia is a free-to-use site that makes money from advertising. We have a modified experience for viewers using ad blockers

Wikia is not accessible if you've made further modifications. Remove the custom ad blocker rule(s) and the page will load as expected.