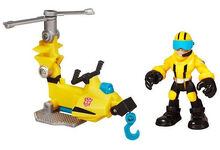 In his drive to help others, Axel Frazier has joined up with the Rescue Bots squad and been partnered with Bumblebee. So deep is their friendship that they now even dress the same. Whether he's riding to the scene of some problem in Bumblebee or using his Microcopter to rescue someone, Axel Frazier is always ready to spring into action.
Ad blocker interference detected!
Wikia is a free-to-use site that makes money from advertising. We have a modified experience for viewers using ad blockers

Wikia is not accessible if you've made further modifications. Remove the custom ad blocker rule(s) and the page will load as expected.